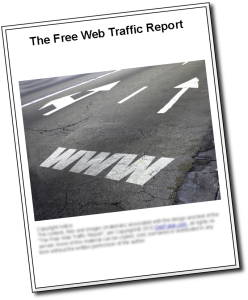 I've been tinkering around on the Internet for a while now, and I wanted to share with you some of the useful things that have helped me get traffic, so without further ado, visit this link: Free Traffic Report.
It's a beginner's overview guide, so only click on the image if you're not afraid to admit that you need to know more about traffic generation, and don't necessarily want to get into the fine details.
For a more advanced guide, click on this link: Free Traffic Report

In the beginner's guide, you will find out:
How to easily dig out new keywords without using any keyword tools (free or commercial)
The three main methods I use for traffic generation
A 3-step easy formula for creating optimized articles
The key thing you should be focusing on when you write content
Top methods for effective link building
Now, as I say, this is a beginner's guide, and as it's a 13 page report, it will give you a concise overview of free methods you can use to generate traffic.
If you've been around for a while, either on a marketing forum or on other marketing websites, then this report isn't for you!
On the other hand, if you are brand new to the internet/home base arena, then you should get something out of the report.
No opt-in is required 🙂
Lastly, if you are involved in a home business which involves building any kind of downline, and you haven't yet enrolled in this Boot Camp on Attraction Marketing, then you're missing out on some invaluable, free training.
It is required reading if you want to make sense of the Free Traffic Report in the light of your home business. It's the pesto source on the pasta!
How Can You Bait, Hook, and Catch 287 Fresh Prospects for Your Business Daily?
My colleague and mentor will be taking this class and will teach you exactly the same secret he taught me.
Go for it…see you in your inbox!